by Joe
If you could protect yourself or your family from being exposed to pornography, how much would it be worth to you …
If a person does a Google search for something random … anything … then select "images" it wouldn't take 4 seconds to stumble across something pornographic. With a problem that quickly available, what do you do? Pornography, lust, and the internet are a deadly combination that is awakening sexual desires in children before they are ready, in married couples when there are problems in their relationships and in lonely singles hunting for companionship.
Song of Solomon 8:4 says it all …

Because the standard of the world isn't the standard of a Christian. And many peoples lives have been ruined through sexual immorality. Jesus shows that the moral standard hasn't changed for us in Matthew 5:27-42.
So back to the question … how do you protect yourself from the filth that pervades the media?
I'll share with you a few options. I've been reading about and testing internet filtering and accountability software. And the truth is not many people know what that is even. So here's the skinny - It's like virus protection for lust.
Internet Filtering – Filters what you see.
Accidentally click on a bad website? No problem. It's blocked.
Advertisement for some Adult dating service … BLOCKED.
Monitor Kids Time on the Internet … Done!
Internet Accountability - Have an accountability partner for how you surf the net.
Your Accountability Partner should be someone you trust and feel comfortable with, and who feels comfortable calling you out if you're starting to go down sketchy paths, like a friend or mentor. They'll get a weekly email report on your surfing. If there's anything sketchy. You discuss. Done!
So where do you start?
I'm somewhat … okay not somewhat. I'm very particular when it comes to technology and software 
I like stuff that's functional, easy to use, and that doesn't cost a ton. I like all around value. I scoured the web and tried out most of the free utilities out there.  Let me save you some time installing and uninstalling a bunch of software,"You get what you pay for." So the first paid option I tried was Safe Eyes … after all, Dave Ramsey endorses it and he's a great guy. (you can get your free one month SafeEyes trial with the link below)

While it was pretty easy to use, it would be much better suited to a parent wanting to fine tune and monitor their child's internet experience. More than a family guard, or an individual looking for accountability. I say this because there's so many features for monitoring chat-rooms, social media, etc.
After a long arduous road with a few other filters, the one I really liked is Covenant Eyes. It's the one I ended up settling on. For the past 6 months I have used with my wife as an accountability partner. The reports are easy to understand and detailed. The filtering is very helpful when traveling the web and I think the whole service runs like under $12/month. Well worth it. (you can get your Covenant Eyes free one month trial with the link below)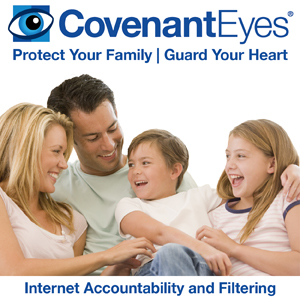 Now there are quite a few options out there but I believe these to be the two front runners. Do your research and check out which one will work best for your family. You may want to start with the free trials of the two above.